The Staff!

Mei
can be seen to be happy at one minute and angry the next if you say a wrong comment. Sometimes unpredictable as she is, she can be quite predictable. She loooves Yaoi so much and is usually seen doing stuff to males with her sister, Nobara. But this yaoi fan-girl means well, and wants everyone to get along on her site and wants it to be one of the best. Be careful around her and Nobara, they're usually the one to leave you shocked- or scarred. but they mean well... Maybe. And, usually you can see them bickering over pandas, cause Mei looves them while Nobara despises them.
~~
Nobara
, random, often hyper, friendly to most and as unpredictable and lethal as one of the volcanos on her freezing lil island. She's a yaoi fangirl which strives to make everybody around her become victim to her man on man hobby. Be careful never to turn your back on her, or you will find a sharpened toothpick between your shoulder blades. Her cheerfulness and hyperness often spike when around her beloved sister, Mei the head admin, and they do enjoy wrecking havoc. Mention dolphins or pandas around Nobara, and you will get killed. No questions asked. Nobara enjoys torturing
lifeanddeath
whenever she can.
~~
I don't know what to say in this tiny little box. What do you want from me people!? WORDS?!
With a yawn and probable shrug of indifference we arrive at the final Admin.
lifeanddeath
, an insomniac that constantly has to fend off random attacks from his two fellow admins who are certain he should star in their latest yaoi fanfic. Also known as LAD, Life, Lifey, Bitch, and Man Servant depending on who you ask. His often relaxed and often silent manner, might just leave you wondering if he fell asleep mid conversation, at least until he randomly joins the conversation, but it is likely he may disappear quickly afterwards. You could wonder what he might be doing in that silence, perhaps working on one of his ridiculously long apps, modding, or in the rare case sleeping. Whatever he is doing, you should be careful not to mention
knifes
....any sharp objects.

Nobara had no idea how she had originally ended in this pub. The evening had started with a stroll where she had intended to find out any valuable information for her whole "sneaky" mission. But then she had met those men that were on their way to partying. And being a female that never backed down from challenges, she had felt rather offended as she had overheard them talking about how a sweet lil thing like herself would never be able to hold her liquir. Well fuck that. Had been her only thought before she stomped up towards them, demanding an apology and then ... a drinking competition. Surely the Espada Leader was used to having 1 or 2 sake at a slow evening in Hueco Mundo. But the bars in the human world were.. well a bit different from what she was used to. Upon entering the destined pub, her jaw had dropped down as she observed the dancing, drinking, rambling, singing etc etc humans which filled the place. The techno music blasted in the stereo, there was glitter everywhere, disco balls, lights that were sure to make her feel blind for days afterswards.

"So what do you want?!" The guys were all around 30 - 40 years old, and most likely used to going out drinking. She could only guess they truly thought she was only around 19, but not slightly over 1000 years old. "Anything you are having." A laughter, pat on the back, and then she was dragged over to the bar where shot glasses were lined up. Apparently they would be drinking some tequila stuff? She got salt on her hand, was told what to do, and then the fun started. She licked her hand, grabbed the glass and downed the liquid before biting onto the lemon. Strangely enough, Nobara found herself feeling this rather... good. "Another one!" She slammed her hand down on the bar table, and got the applauding from a group of people that had started watching this small group of new people. Surely she was stealing the attention a bit, her crystal blue eyes along with raven black hair. Deadly beautiful features along with a seductive body build. She was wearing a black, tulle ruffle dress which reached midway down her thighs, along with black shoes that had a small heel. But although it was small, it was still painful getting it nailed down on your toes if you got too familiar with her.

And thus, she was now finding herself on the dance floor. A glass of a martini in her hand, while she was waving the other above her head while dancing to the hypnotic music. The males that had escorted her into the bar in the first place had all either given up or were passed out by now. Surely she had good tolerance, but there was no denying that the Espada Leader was getting a bit tipsy as she was dancing like there was no tomorrow while sipping occasionally on her drink. Whenever she went back to the bar, a new male would offer to buy her a drink. And naturally she just accepted that, not thinking more about it than just the act of curtesy. To probably everybody's surprise, that knew her, Nobara seemed to only be getting more talkative and jolly rather than cutting everybody up into little straps of meat to be hung out for drying. On the contrary she was now again at the bar, sitting on it while shouting out for anyone that dared to take her head on in the drinking. Anyone that would have the guts to take that challenge.
_________________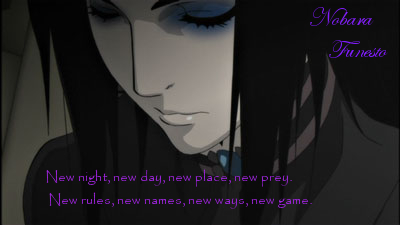 Demons sidle up sweetly
Laughing in the hole in my heart
Epic moment for me - - >
Admin





Posts

: 72


Join date

: 2010-11-26


Age

: 32


Location

: Your closet, watching yaoi with sis.



Mazuki entered the pub that was known as the number one most well known techno bars. Pushing chairs back as her moved around the bar he began to yell out letting the locals know he was here. "Yo! Move out of the way, sexy is back, bitches!" Moving through the crowd he high-fived several party-goes he seemed to know. This was he favorite place to loosen up, and if he was lucky he somebody to take home. Bouncing and bobbing with the music, Mazuki started pulling girls into the circle of dance. The techno got a bit louder when he signaled the DJ. He heard some american music playing and he knew he wanted to dance. After a little grinding on some of the local girls, and same guys to, he left with party of highly sexual adults to go have a drink. He slapped the bar and demanded a drink. "I want something sweat! Gemme vodka with strawberries and some Meade with a twist of lemon! I don't care what you do to them! Mix'em for all i care, i just need a drink!" Mazuki shook his hips all over the bar and waved at some of the dancers. The girls next to him payed for his extremely odd drink so long as they could share and add some more stuff in it. The bartender brought a fishbowl of liquor and fruit for Mazuki and these two girls to share. After a long chug, he could feel the alcohol rush through his system and now he was READY to do everything.

A couple of men came over to Mazuki and told him about a knew girl. They got her a drink of tequila and from what he heard she liked it. This girl sounded like fun and maybe she had a brother. The guys pointed to her in the crowd and said if he offered something she would probably take it. He ordered to cocktails with sake and vodka mix. Mazuki could see the girl out in the crowd and kept one eye on her at all times. While waiting for his drinks he started dancing with a bunch of men and women who were drunk off their asses. One of the girls partied too hard and threw up. Really gross, but Mazuki gave her some cash for dry cleaning and told two of the guys and one of her friends to escort her home. When the bartender got his drinks ready Mazuki took his poison and headed out to hunt down this panther of the night.

Mazuki shook his thing across the floor and inched his way closer and closer to the direction of the girl. As a shinigami, this would be considered a little distasteful but hell no one is going to know who he is and besides his gigai suppresses his spiritual pressure so its not like no one is going to check up on him. When he got to the woman he moved in front of her and offered one of the drinked to her. "Hey there girlie! My name's Mazuki." Dancing with the crowd, Mazuki felt the need to show himself off. He got close enough to show his tight blank shirt with neon rainbow trimming and the chains around his neck. His piercing on his ear gave off a 'sign' that hopefully she would pick up. Mazuki was truely a free spirit from what he had on. Most men from the area didn't wear tight clothing (or at least this kind of tight clothing). Then of course he turned and danced showing off his leather pants the reflected the liughts from the club. "So what's your info doll. Name, age, and poison?" Mazuki continued to dance for this girl, hopefully she was a party girl too and might have a little showdown with him.



Posts

: 30


Join date

: 2010-12-14


Age

: 25



She was again on the dancefloor, her eyes closed as she twirled and moved to the beat. She didn't recognize any of the songs, but damn was she loving each and every one of them. Her eyes snapped open as she felt someone new coming closer, addressing her. It was a very handsome young man, who seemed to be very free in spirit from what she could gather of his clothing style and the way he addressed her. Without hesitation her hand went out and grabbed at the glass, while Nobara flashed him a big smile. "Mazuki? Nice to meet you, I'm ..Ayame. And I'm 21." For a minute there she had almost blurted out her real name, but had been able to hold her tongue in time. A burst of giggle escaped her upon the rest of his question. "Poison? You are funny, why would I be drinking poison?" Naturally, she didn't understand this kind of talking, seeing that she had been kinda away from society for the last few decades. Perhaps she'd come off as a bit of a naive person, or someone which didn't get to the city too often.

Her body swayed to the music, as she danced around her new drinking buddy, bumping her hips against his to the beat. Not feeling the smallest ounce of shyness while she didn't hold back the smiling. The drink she had gotten tasted a bit weird, strong but yet good. A familiar taste lingered in her mouth as she gulped down the drink like the most experienced drinker. "Wooo that was good!" Her eyes sparkled as she looked over Mazuki. Had she found someone that would be able to take her on in the drinking? An arm snaked around her waist, a handsome stranger which looked like he was not around there clearly had his eyes on this jolly girl. He was tanned, tall, with blonde hair and blue eyes. An inviting smile was on his seductive lips, a smile that had probably proved good to tame any girl which he had encountered before. Well he was in for a surprise then. A small scowl entered Nobara's face before she laughed and grabbed at the arm that was still around her small waist. With a movement of a martial arts master, she was done twisting on the arm behind the man's back and had him literally on the floor on his knees with a mix of pain, horror and stunned surprise flowing over his handsome features. "Don't touch something that's not yours mister!" She let go of her hold and danced her way back towards Mazuki, casually leaving her empty glass on a random table on her way.

She grabbed at the red head's hand and twirled him once before letting go with a saucy grin. "You come often to this place? It's awesome! Although the people can be a bit too friendly. Want me to go get more drinks?" She eye'd his glass, seemingly expecting him to be done drinking from it now. Was she trying to get him drunk, or was she just this playful on daily bases? Or perhaps both... Seemingly the little scene earlier had not had any effect on her, even if there were still a few people staring at her like she had sprouted a new head. The blonde whom she'd almost broken the arm of, had already made his escape while muttering about crazy Japs.
_________________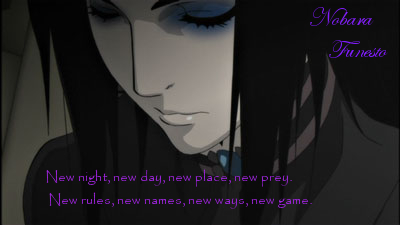 Demons sidle up sweetly
Laughing in the hole in my heart
Epic moment for me - - >
Admin





Posts

: 72


Join date

: 2010-11-26


Age

: 32


Location

: Your closet, watching yaoi with sis.




---
Permissions in this forum:
You
cannot
reply to topics in this forum