The Staff!

Mei
can be seen to be happy at one minute and angry the next if you say a wrong comment. Sometimes unpredictable as she is, she can be quite predictable. She loooves Yaoi so much and is usually seen doing stuff to males with her sister, Nobara. But this yaoi fan-girl means well, and wants everyone to get along on her site and wants it to be one of the best. Be careful around her and Nobara, they're usually the one to leave you shocked- or scarred. but they mean well... Maybe. And, usually you can see them bickering over pandas, cause Mei looves them while Nobara despises them.
~~
Nobara
, random, often hyper, friendly to most and as unpredictable and lethal as one of the volcanos on her freezing lil island. She's a yaoi fangirl which strives to make everybody around her become victim to her man on man hobby. Be careful never to turn your back on her, or you will find a sharpened toothpick between your shoulder blades. Her cheerfulness and hyperness often spike when around her beloved sister, Mei the head admin, and they do enjoy wrecking havoc. Mention dolphins or pandas around Nobara, and you will get killed. No questions asked. Nobara enjoys torturing
lifeanddeath
whenever she can.
~~
I don't know what to say in this tiny little box. What do you want from me people!? WORDS?!
With a yawn and probable shrug of indifference we arrive at the final Admin.
lifeanddeath
, an insomniac that constantly has to fend off random attacks from his two fellow admins who are certain he should star in their latest yaoi fanfic. Also known as LAD, Life, Lifey, Bitch, and Man Servant depending on who you ask. His often relaxed and often silent manner, might just leave you wondering if he fell asleep mid conversation, at least until he randomly joins the conversation, but it is likely he may disappear quickly afterwards. You could wonder what he might be doing in that silence, perhaps working on one of his ridiculously long apps, modding, or in the rare case sleeping. Whatever he is doing, you should be careful not to mention
knifes
....any sharp objects.

Basic Information
Name:
Mizaki Retsu
Age:
258
Physical Age:
: 18
Gender:
Male
Sector:
Second Sector and Division.
Seat:
Lieutenant of Second Division
Looks:
Spoiler:

Mizaki stands at 6'2'' and weights at 231. He's muscular build and fairly tanned skin. He has black hair and dark brown eyes. He wears bandages all over his right arm. From the middle of his fingers to his shoulder. He wears a dark brown jacket that goes from his neck to right below his waist. To keep the jacket on he has a white cloth wrapped around himself and let's the end of it hand off the side.

He wears a beige sleeveless shirt under the jacket, and it goes from the base of his neck to right above his knees. He wears shorts that only go to his knees, and there the same colour as his jacket, dark brown. He wears shin-guards that are gray. He has shoes that let the toes breathe and their dark brown, like the rest of his attire.
Personality:
Mizaki is a laid back kind of guy. He's a follower, not a leader. He doesn't like being left in charge due to, well, he'll screw up somehow. He did something he wasn't supposed to do, or he didn't do something he was supposed to do. But mostly the later one. He had a hard time remembering what to do. Give him 4 tasks, chances are, he'll only remember half of em.
He's a small time flirt, he doesn't go after every girl he sees, but he will fantasize over her, not that he'll do anything about it. Doesn't matter Friend or Foe, he'll take a small interest into the girl. He has a low self-esteem, so he figures he has no chance in hell he'll ever get the girl. But he does believe in chivalry. He honors women and treats them like queens. If he sees someone picking on a girl, he'll intervene, most likely to get his ass kicked, but he'll intervene.
Mizaki believes in justice, that everything his squad does is for the good of the Shinigami race. He never questions an order from any superior who gives it to him directly, but if its through a lower ranking Shinigami, he'll question it, but beyond that, he's filled with duty. He'll get the mission done as fast as possible, but when he gets back, he gets drunk and sits around in a small room he calls home.
Zanpakuto Information
Zanpakuto Name:
Raikou (Lightning)
Unreleased Zankpaktou Appearance
Spoiler:
Zanpakuto Release Phrase:
"Raikou Seirei Houmen!" ("Lightning Spirit Release!")
Released Zanpakuto Looks:
Spoiler:
Released Zanpaktou Abilities:
When Raikou is released its surrounded by electricity causes a shock on every hit. It causes extra damage upon each strike due to its electricity. It can also shoot a surge of electricity towards the target. It also serves as a lightning rod and absorbs all lightning elemental attacks.
Zanpakuto Spirit:
Spoiler:
Zanpakuto Realm:
View from Afar:
Raikou's Shrine:
Bankai Information
(This applies to captains, and advanced lieutenants only)
Bankai Name:
Raikou's Genkotsu (Lightning's Fist)
Bankai Description:
Raikou's Genkotsu becomes a lightning rod, no matter how far or strong the lightning is, it will absorb it and not just dull its effect, but store it for further use. When Raikou's Genkotsu stores enough electricity, it can fire a large surge of lightning at anything Mizaki chooses. It differs from Raikou-Heki by it can be controlled by the gauntlet.
Bankai Looks:
Spoiler:
Kido:
Name:
Byakurai (白雷, Pale Lightning)
Type:
Hadō
Number:
4.
Incantation:
-
Element:
Lightning
Description:
The user fires a concentrated, powerful lightning bolt from their finger.
Name:
Raikōhō (雷吼炮, Thunder Roar Sear)
Type:
Hadō
Number:
63.
Incantation:
"Sprinkled on the bones of the beast! Sharp tower, red crystal, steel ring. Move and become the wind, stop and become the calm. The sound of warring spears fills the empty castle!"
Element:
Lightning
Description:
Fires a massive wave of yellow energy at a target.
Techniques:
Technique Name:
Raikou-Heki (Lightning Burst)
Technique Type:
Offensive
Degree of difficulty:
Intermediate
Description:
Mizaki slashes in any direction and a burst of lightning ejects from Raikou. The lightning burst goes into the direction of Mizaki's slash and only that. It cannot change direction mid slice. The power of the electricity is around 1000 volts. This technique can only be used in Shikai. Those who are weaker are stunned for 1 post. This technique can only go 20 feet radios before it starts dissipating. 1 post is needed before utilizing this technique again.
Technique Name:
Raikou's Genkotsu - Heki (Lightning's Fist - Burst)
Technique Type:
Offensive
Degree of difficulty:
Master
Description:
Mizaki punches the air and a surge of Lightning is shot out of the middle claw. The is formed into a spear and is controlled by the tip of the claw. So wherever Mizaki points that tip, the lightning bolt will go there. Example: If he points infront of him, it'll go away, if he points behind him, it'll come towards. If he points down, it'll go down, if he points up, it'll go up. The power of this technique is equal to 2700 volts(3 tasers). And it can only be activated in Bankai. Those who are lower level are stunned for 2 posts and those who are the same level get stunned for 1 post if don't counter with an equally strong tech. 1 post is needed to prepare for this technique. This move can go 30 feet radius before dissipating, but can only stay active for 2 posts. 3 turns for cooldown.
History and RP Sample
History:
Spoiler:

~Arc 1: Birth to Adulthood to Death~

Mizaki Retsu's father was a samurai, and his mother was a servant girl. His fathers side of the family looked down on him for being a bastard child, and a child from a servant. During child birth, his mother had complications and died from blood lost. Mizaki was being raised by his father, who had his own land and served nobody but himself.

Mizaki had a difficult childhood, being raised to become a samurai and being looked down upon by his family. Except his father, who loved him so. He started training when he was 4, and continued onwards from there. When he was born, it was the time of the Edo Period in Japan's history. This time lasted till he was 8, when it was overthrown by the Meiji Restoration.

When he was 6, his father, a samurai, was given a choice. To either become a peasant, or to serve their feudal lord as a paid retainer. His father and the feudal lord didn't quite see eye to eye, and had arguments over many things. So his father decided to give up his sword and become a peasant.

Mizaki and his father moved, away from the cities. They lived in the woods, and lived off of his fathers savings. When Mizaki was 16 his father contracted a disease. Mizaki went to the city to get some medicine for his father, but since he was a "peasant", many people turned their noses up and ignored him.

Nobody wanted to help Mizaki, so he decided to go to the feudal lord for help. But this wasn't such a great idea, for he was the son of the man who insulted the feudal lord. So, Mizaki was imprisoned and was going to be sentenced to execution.

Mizaki didn't know what to do, it was only a matter of time before he would die. Mizaki looked at his cell door all the time, hoping he wouldn't die, and be set free. For months he was sitting in a damp cell. The days creeping closer to his 17th birthday, and he kept wondering how his father was doing.

It wasn't long, maybe a few weeks before his birthday. The feudal lord paid a visit to Mizaki. The feudal lord gave him a choice. Either: become his samurai, or to be executed. Mizaki didn't want to die, so he became the new feudal lord's samurai. He trained day and night, so he wouldn't get rusty from those 10-11 years of not training.

Mizaki went home to visit his father, and when he did, he discovered his father had passed away. Mizaki was distraught over the news of his fathers passing, but he had to return quickly home, to the feudal lord. Mizaki was whipped, for not asking permission to go visit his father. It was hard times working under this man, who hated Mizaki.

But Mizaki endured it, and continued doing what he did best. It wasn't long before a small group of rebels tried to assassinate the current feudal lord, but they couldn't kill Mizaki, who protected him with all he had. That was when he was 18.

When Mizaki was 19, those same rebels, hired a ninja to take care of Mizaki once and for all. The time of Mizaki's death was late at night, and he was walking from a shrine. It was a cold winter night, and Mizaki was drinking alcohol that night, so he wasn't at his peek condition. Since it was the day he discovered his fathers body.

The ninja crept behind Mizaki, and stabbed him with a poison kunai, right in the spin. Mizaki cried in pain and fell to the ground. If he lived from the stab, the poison would kill him, if he lived from the poison. He wouldn't be able to stand. The ninja made Mizaki, a cripple.

But Mizaki didn't die from blood loss, or live as a cripple. He died from the poison. The poison quickly spread through his body, destroying it. Mizaki slowly closed his eyes, to never awake as a human again.

~ Arc 2: Soul Reaper~

Mizaki awoke, outside of the shrine, he looked around and couldn't believe he lived. He walked back to the feudal lords home and walked in the door, at the same time someone was. Mizaki walked around the place, looking at other people.

Mizaki walked into the main room, looked at everyone and noticed some of the women crying. He wondered if someone had passed away, so he walked towards the feudal lord to ask what happened.

Mizaki spoke a few words, politely. But he got no response. Mizaki was getting concerned. Nobody was talking to him, or even looking at him. Mizaki looked around at the people, crying, being sullen. Then, the rebels appeared. They killed off the guards and went straight to the feudal lord. He was killed instantly.

After that, a man wearing all black, with his blade drawn. Hit Mizaki on his forehead. Mizaki fell backwards, turning into a black butterfly, and flew away towards a different dimension. Mizaki appeared in a street. Seeing thousands of people walking by.

Mizaki didn't know where he was, or what he was doing there. But he couldn't help but feel..empty. So Mizaki walked around for hours, looking for the man in black. He came across a giant wall. Probably very high for his standards. Mizaki walked along the wall, and found a giant man standing at the gate.

He asked what Mizaki wanted, and Mizaki gave him an answer. The man looked at him confused, and a man dressed in black, walked by him, grabbed Mizaki by the arm, and brought him inside. The man, put Mizaki in a room with other men in black. "New Student." the man said, and so it was.

Mizaki was forced to become a new shinigami. Which, he was training to do. Mizaki did what he was told, how to do it, and when to do it. Mizaki was very good at wielding his Zanpaktou. Mizaki was great at many things, but Kido. He was horrible at Kido. The teacher told Mizaki he had a great amount of spiritual pressure, but didn't know how to use it well.

Mizaki didn't know what he meant, but trained hard at it. Mizaki finally mastered kido, and graduated from the school. Mizaki, was appointed to division 2, and he quickly went up in the ranks. Mizaki didn't really know what to do, since, he was 3rd seat. The Vice-Captain offered Mizaki if he needed some help, Mizaki took it.

Mizaki gradually learned what to do, and how to do it. But what else was wrong, was that Mizaki wasn't strong enough to fight a Arrancar by himself. Which, cost the Vice-Captain of division 2, to lose his life. Mizaki was distraught about it, but kept it cool and continued to train hard.

Until one day, Mizaki was appointed to be Vice-Captain. This came as a great shock to him, but he happily took the position and became the new Vice-Captain. He continued to train and become a better Vice-Captain.
RP Sample:
Spoiler:

Zack was still laying against the wall, in a slight amount of pain. It was slowly going away, but he didn't want to break his arm so early in the game. He heard a cat's meow coming from the other end of the alleyway. Zack looked in that direction in shock. He was getting very paranoid right now. Two left, and so much room to cover. Zack climbed up a garbage can and used his good arm to climb up a window. Thankfully, the window was open. So he went inside and looked around. "Nobody home?" he said, quietly. He peeked out the window and saw a cat run down the alley. A man Zack remembered seeing, it was the second-in-command. He couldn't remember his name, but that didn't matter, he was a crooked criminal.

Zack stood in the window, ready to jump from above the man. "HEY!" screamed Zack, catching the man's attention. He jumped from the 2 story window and collided with the man. Rolling off of him and standing up, holding his arm. The man stood up and dusted himself off. "Heh, is that all you got little man?" said the man, ripping his shirt sleeves off. Showing a arm covered in that had a demonic skull tattoo on his right shoulder. "You think I got this position as second in power for nothing?" sneered the man, charging towards Zack. Zack threw a punch at the sailor, and hit him across the face, but that didn't seem to faze the man.

The man just kept running and then got close enough to punch Zack in the face, Zack was too shocked to even dodge the attack, and he got punched right in the face, sending him flying. He flew back what seemed like a hundred feet, but was actually just 8. He landed on his back and skidded maybe a foot. Zack stood up quickly and wiped blood from his face. "What are you?!" blurted out Zack, the man just laughed in response. "I'm just a demon of the seas." he said, walking towards Zack and stretching his arms. Zack threw another punch at the man's face, connecting each time he attempted. Each time, nothing seemed to faze the man.

The sailor threw another punch, and sent Zack another few feet back again. Zack was slightly staggering on his feet, but he now got a range on the mans punches and how much force he had in it. Now that Zack gained all this info on his enemy, all he needed was, a weak spot. Zack threw another punch, but this one wasn't with magic, this one was a up close punch. The man chuckled and dodged the punch and was about to swing another punch, but Zack saw it coming and dodged it by jumping and kicking the man in the face. This, caught him by surprise and he stumbled back a bit.

Zack was still mid air and the man didn't quite regain his composer yet, which was exactly what Zack needed. He stretched both arms, in pain, and punched the man in the face with both, and then he kicked the man to knock him back. This caused him to stumble and fall backwards. But on his way down, Zack head butted him in the stomach, just for extra measure. The man fell and hit his head on the corner of a brick, knocking him out instantly.

Zack stood, in complete exhaustion. First of all, he was using quite a bit of magic with all these punches, and he just got the shit kicked out of him. But if the boss needed a strong guy like him to protect himself, then, he must have been weak right? Well, thats what came to Zack's conclusion. He dragged the body by the foot and used the some rope to tie him up with the other two. He looked at the three unconscious men inside of a garbage bin. He couldn't hold back a little bit of the laughter he had.

Zack used his Regeneration spell to heal his wounds he got from that earlier battle. He was almost patched up, but his arm still hurt a little bit, but less then earlier. He walked down the alleyway and looked both ways. It was a huge courtyard and nobody was around, so it must have been empty correct? Wrong, something was wrong in the area, but Zack couldn't place his hand on it. It wasn't until he was in the middle of the area was when he felt it. It was a knife to his right leg.

Zack fell to the ground, thriving in pain. He felt even more pain when the knife was removed after being twisted in his leg. He screamed aloud in pain. His scream must have echoed through the city, where people must have stopped and wondered what just happened. Maybe even Noel heard the scream of pain. The man who stabbed him was none other then the man who conned Zack.

"Howdy boy, I see you hurt yourself there, fightin' my boys are ye?" said the man, in a mocking tone. "Please, no hard feelin's, I just couldn't give ya yer jewels see," said the man, circling Zack, with a smirk across his face. "I needed all the money I could get." he continued. Standing right above Zack with his knife in hand. "Now, I don't need ya', now, you can go sleep in hell!" he screamed about to plunge the dagger into Zack's heart, but Zack was quick, and kicked the captain in the face and stood up as he fell backwards. "Sorry, but it's not my day you see. Today, you go to jail and I get paid for the job you hired me for, and bringing you smugglers to justice, and for bringing Raven Tail's members to justice as well." said Zack, in a nobleman's tone.

Zack put his hand on top of the stab wound in his leg and healed it, but it took all of his concentration for it was a pretty deep wound. That, gave the slimy creep enough time to run away towards the dock. When Zack noticed the captain was gone, he almost flipped out. But he saw the blood that was dripping from the knife and decided it was to follow suit. Zack did so and ran down the street towards the dock.
Last edited by Mizaki Retsu on Wed Dec 22, 2010 6:51 pm; edited 8 times in total



Posts

: 50


Join date

: 2010-12-17


Age

: 26


Location

: In your basement



From what I believe this profile looks alright. But there are some things I noticed which I'd want to point out here.
Technique Name: Raikou-Heki (Lightning Burst)
Technique Type: Aggressive
Degree of difficulty: Intermediate
Description: Mizaki slashes in any direction and a burst of lightning ejects from Raikou. The lightning burst goes into the direction of Mizaki's slash and only that. It cannot change direction mid slice.

Technique Name: Raikou's Genkotsu - Heki (Lightning's Fist - Burst)
Technique Type: Aggressive
Degree of difficulty: Master
Description: Mizaki punches the air and a surge of Lightning is shot out of the middle claw. The is formed into a spear and is meneavoured by the tip of the claw. So wherever Mizaki points that tip, the lightning bolt will go there. Example: If he points infront of him, it'll go away, if he points behind him, it'll come towards. If he points down, it'll go down, if he points up, it'll go up.
- Both those techniques lack a detail in how strong they are.
- And also in what form [Normal, Shikai, Bankai] he can use them.
- How far can both techniques go before disapating?
- There's a cooldown needed for both techs.
- Also a preperation post is needed for the second tech.
Last edited by Nobara Funesto on Wed Dec 22, 2010 12:51 pm; edited 1 time in total
_________________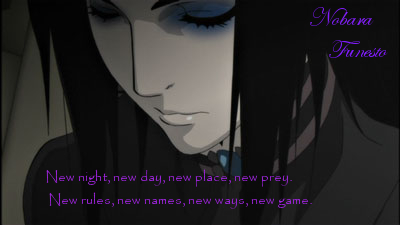 Demons sidle up sweetly
Laughing in the hole in my heart
Epic moment for me - - >
Admin





Posts

: 72


Join date

: 2010-11-26


Age

: 32


Location

: Your closet, watching yaoi with sis.






Posts

: 50


Join date

: 2010-12-17


Age

: 26


Location

: In your basement



_________________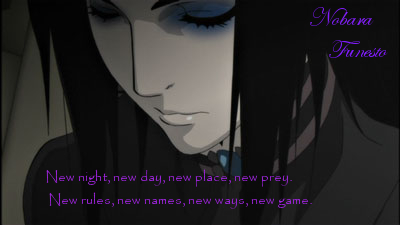 Demons sidle up sweetly
Laughing in the hole in my heart
Epic moment for me - - >
Admin





Posts

: 72


Join date

: 2010-11-26


Age

: 32


Location

: Your closet, watching yaoi with sis.




---
Permissions in this forum:
You
cannot
reply to topics in this forum