The Staff!

Mei
can be seen to be happy at one minute and angry the next if you say a wrong comment. Sometimes unpredictable as she is, she can be quite predictable. She loooves Yaoi so much and is usually seen doing stuff to males with her sister, Nobara. But this yaoi fan-girl means well, and wants everyone to get along on her site and wants it to be one of the best. Be careful around her and Nobara, they're usually the one to leave you shocked- or scarred. but they mean well... Maybe. And, usually you can see them bickering over pandas, cause Mei looves them while Nobara despises them.
~~
Nobara
, random, often hyper, friendly to most and as unpredictable and lethal as one of the volcanos on her freezing lil island. She's a yaoi fangirl which strives to make everybody around her become victim to her man on man hobby. Be careful never to turn your back on her, or you will find a sharpened toothpick between your shoulder blades. Her cheerfulness and hyperness often spike when around her beloved sister, Mei the head admin, and they do enjoy wrecking havoc. Mention dolphins or pandas around Nobara, and you will get killed. No questions asked. Nobara enjoys torturing
lifeanddeath
whenever she can.
~~
I don't know what to say in this tiny little box. What do you want from me people!? WORDS?!
With a yawn and probable shrug of indifference we arrive at the final Admin.
lifeanddeath
, an insomniac that constantly has to fend off random attacks from his two fellow admins who are certain he should star in their latest yaoi fanfic. Also known as LAD, Life, Lifey, Bitch, and Man Servant depending on who you ask. His often relaxed and often silent manner, might just leave you wondering if he fell asleep mid conversation, at least until he randomly joins the conversation, but it is likely he may disappear quickly afterwards. You could wonder what he might be doing in that silence, perhaps working on one of his ridiculously long apps, modding, or in the rare case sleeping. Whatever he is doing, you should be careful not to mention
knifes
....any sharp objects.

The techniques listed below do not need to be put on your profile as abilities, since it is already given that your Arrancar will have them.

* Bala (虚弾 (バラ), bara; Spanish for "Bullet," Japanese for "Hollow Bullet")
Bala is an Arrancar alternative to Cero. The technique hardens the user's Spiritual Pressure and fires it like a bullet. Although it is weaker than a normal Cero, it moves about twenty times faster and can be fired at a much higher rate, but the damage is much the same. Stronger Arrancar can also fire a more powerful Bala, while retaining its twenty-fold speed.
Spoiler:
* Cero (虚閃 (セロ), sero; Spanish for "Zero," Japanese for "Hollow Flash," "Doom Blast" in the Viz translation)
are high-powered energy blasts that can be fired from various body parts, such as mouth, tongue, hand or fingers. Only Gillians, Adjuchas, Arrancar, and the Visored have so far been shown to use Cero attacks, and it appears that stronger entities can use it more efficiently. Various Arrancar and Hollow characters display variants of the technique, such as the Espada-exclusive Gran Rey Cero, the Cero Oscuras and also the Cero Sincrético.
Spoiler:
* Garganta (黒腔 (ガルガンタ), garuganta; Spanish for "Throat," Japanese for "Black Cavity")
is how Arrancar and Menos-class Hollows move to and from Hueco Mundo. It literally tears open the dimensional fabric separating the worlds, revealing a tunnel of whirling, torrential energy that must be focused and solidified to create a discernible pathway.
Spoiler:
* Hierro (鋼皮 (イエロ), iero; Spanish for "Iron," Japanese for "Steel Skin")
refers to the hardened skin of the Arrancar, which is a result of their compressed spiritual power. While their skin is strong enough to block even released Zanpakutō bare-handed, it is by no means impenetrable. Stronger Arrancar generally have proportionally stronger skin than usual.
Spoiler:
* Negación (反膜 (ネガシオン), negashion; Spanish for "Negation," Japanese for "Anti-Membrane")
are energy fields are used to rescue fellow Hollows. Only the Gillian-class Menos have shown the ability to use it. Negación fields surround a target in a square beam of light that isolates the target from the dimension they are currently in, making it impossible to harm them. The field then pulls the target towards the Menos that created the field. Espada have a special cube-shaped device called Caja Negación (反膜の匪 (カハ・ネガシオン), kaha negashion; Spanish for "Negation Box," Japanese for "Anti-Membrane of Negation") meant to simulate Negación fields, which are used to punish their subordinates if necessary. The cube, when used on a subject, traps them in an alternate dimension from which there is no escape; however, this assumes it is being used as intended. More powerful Arrancar, namely the Espada themselves, can escape given enough time.
Spoiler:
* Pesquisa (探査回路 (ペスキサ), pesukisa; Spanish for "Inquiry," Japanese for "Probe Circuit")
is the Arrancar equivalent of the Shinigami ability to sense Spiritual Pressure. It functions very similarly to sonar.
Spoiler:
* Resurrección (帰刃 (レスレクシオン), resurekushion; Spanish for "Resurrection," Japanese for "Returning Blade")
Most Arrancar have the ability to seal their power within a Zanpakutō. Upon releasing their Zanpakutō, they gain all of their former unique Hollow abilities back, essentially 'resurrecting' their old selves. When using this ability, they essentially combine their human form and their Hollow form, incidentally increasing their power considerably. As another note, when an Arrancar uses his or her Resurrección, it heals all minor wounds.
Spoiler:
* Sonído (響転 (ソニード), sonīdo; Spanish for "Sound," Japanese for "Sound Ceremony")
is the Arrancar equivalent of the Shinigami Flash Steps and the Quincy Hirenkyaku; it allows the user to travel at incredibly high speeds for short distances. Use of Sonído is punctuated by a brief static sound, in contrast to the "swish" sound caused by Flash Steps.
Spoiler:
Gonzui (lit. "Soul suck")
is a technique to absorb the souls from a large number of living people over a very wide area. It is only effective on people with low spiritual power.
Spoiler:
Mano (lit. "Hand")
this is the ability that Arrancar's use to deflect, stop or even pierce the enemy with their bare hands. When this technique is used with conjunction Hierro it power strengthens in terms of defence.
Spoiler:
_________________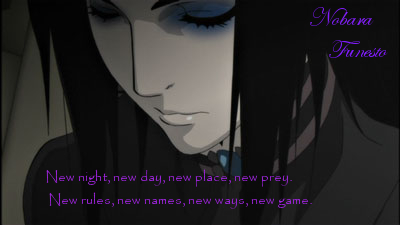 Demons sidle up sweetly
Laughing in the hole in my heart
Epic moment for me - - >
Admin





Posts

: 72


Join date

: 2010-11-26


Age

: 32


Location

: Your closet, watching yaoi with sis.





Similar topics
---
Permissions in this forum:
You
cannot
reply to topics in this forum